10% off discounts for police, firefighters, military, and FEMA
on top of current promotions
Sandals and Beaches Resorts truly appreciate your service and commitment to serving in the police, firefighters, military, or FEMA. To show their appreciation, you will enjoy a 10% discount on top of all current promotions. What an amazing way for these Caribbean Resorts to say thank you!
Click on the buttons above to get pricing or contact Premium Resorts to ensure your 10% discount!
Sandals Promotions
These resorts are so beautiful it would be a shame to let a room stay empty. Give us a call for the last minute deals and dates free night of availability. You cannot beat a free night deal!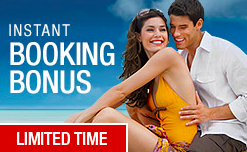 Stay in touch with Instant Booking Bonus promotions. These are always changing to look often!
Traveling in a group offers many opportunities. Premium Resorts can help you organize a golf, yoga, gym, best friend, neighborhood, or family group vacation. We can explain the free room option as well as the group activities and incentives offered by Sandals and Beaches Resorts. Call or contact us to make it all happen with one simple phone call!